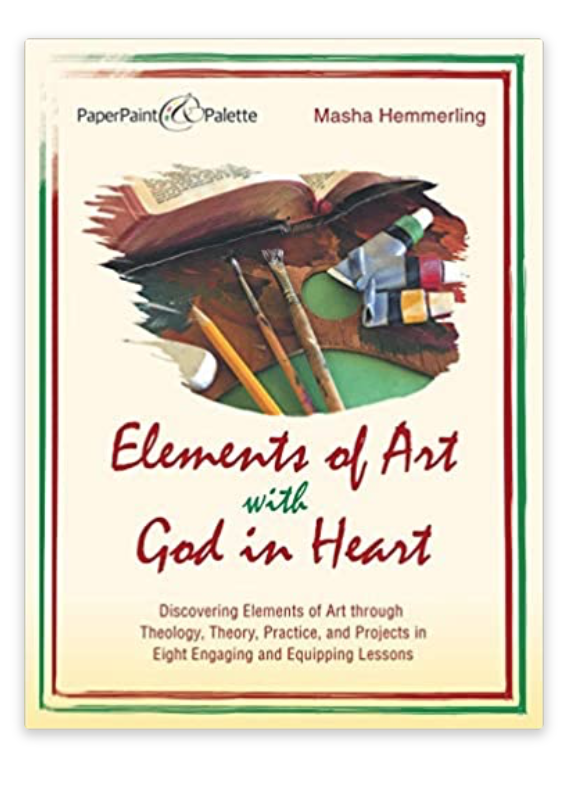 Finally, after 6 years from the moment I've developed this program, 3 years after I've started collaborating with the publishing company, after 4 private Christian schools and over 400 students, after coaching 2 teachers who were teaching this program to their students, I would like to announce that my book, the manual for art teachers "Elements of Art with God in Heart" is finally published!
You can find this book on Amazon https://www.amazon.com/Elements-Art-God-Heart-Disc... , on Westbow Press website: https://www.westbowpress.com/en/bookstore/bookdeta..., and in Barns&Noble website: https://www.barnesandnoble.com/w/elements-of-art-w....
Also, besides being available in digital form, this manual can be printed on demand as well!

Here are few facts about Elements of Art with God In Heart manual for art teachers:
Who will be interested in it? This adoptable curriculum will be great for teachers who teach in Christian schools, homeschooling parents, Sunday school teachers.
What is in this manual:
You will find unique inspirational words for those who are teaching art in Christian environment;

Introduction of the course to your students - 8 Elements of Art (dot, line, shape, form, color, value, texture, space);
8 tables with objectives;
8 lists of art supplies for students;
8 lists of materials for the art teacher;
8 units/lessons plans with step-by-step instructions (with theology, theory, practice and projects for each lesson);
Explanation of why I teach 8 Elements of Art, Seven Colors of the Rainbow, and CMY as Primary Colors;
Helpful information for adopting this material to a smaller budget;

Elements of Art related games, ideas for stations, activities, links for books and videos.
Additional details:
Paperback : 130 pages
Item Weight : 11 ounces

Dimensions :

8.27 x 0.28 x 11.02 inches
Quick overview of my book "Elements of Art with God in Heart"
TESTIMONIES:
"When we first came across this art curriculum by Masha Hemmerling we were ecstatic. My husband and I had just started a homeschool group and we were looking for an art curriculum for our students (K-12). We were familiar with some other programs but none wowed us. Then we can across this. The way Masha incorporates theology and art is phenomenal. Adding the theology in no way takes away from the art, it enhances it. This art program is a more complete art program than any we have seen and the theology ties it all together. We highly recommend this art program and any art program by Masha Hemmerling." - C & M

"This art program is wonderful! I have never seen a program that is Biblically based, engaging, and teaches concepts and skills students need to be successful artists. I have had three children, ages 2nd grade, 5th grade and 8th grade use this program. It would be appropriate for kindergarten- high school students. Older or more experienced students can add more details to gear it to their own level. I highly recommend this. I have used 2 other art programs prior to this (Artistic Pursuits and Meet the Masters). This one exceeded my expectations. This is my favorite art curriculum EVER!!!!" - Kindle Customer

---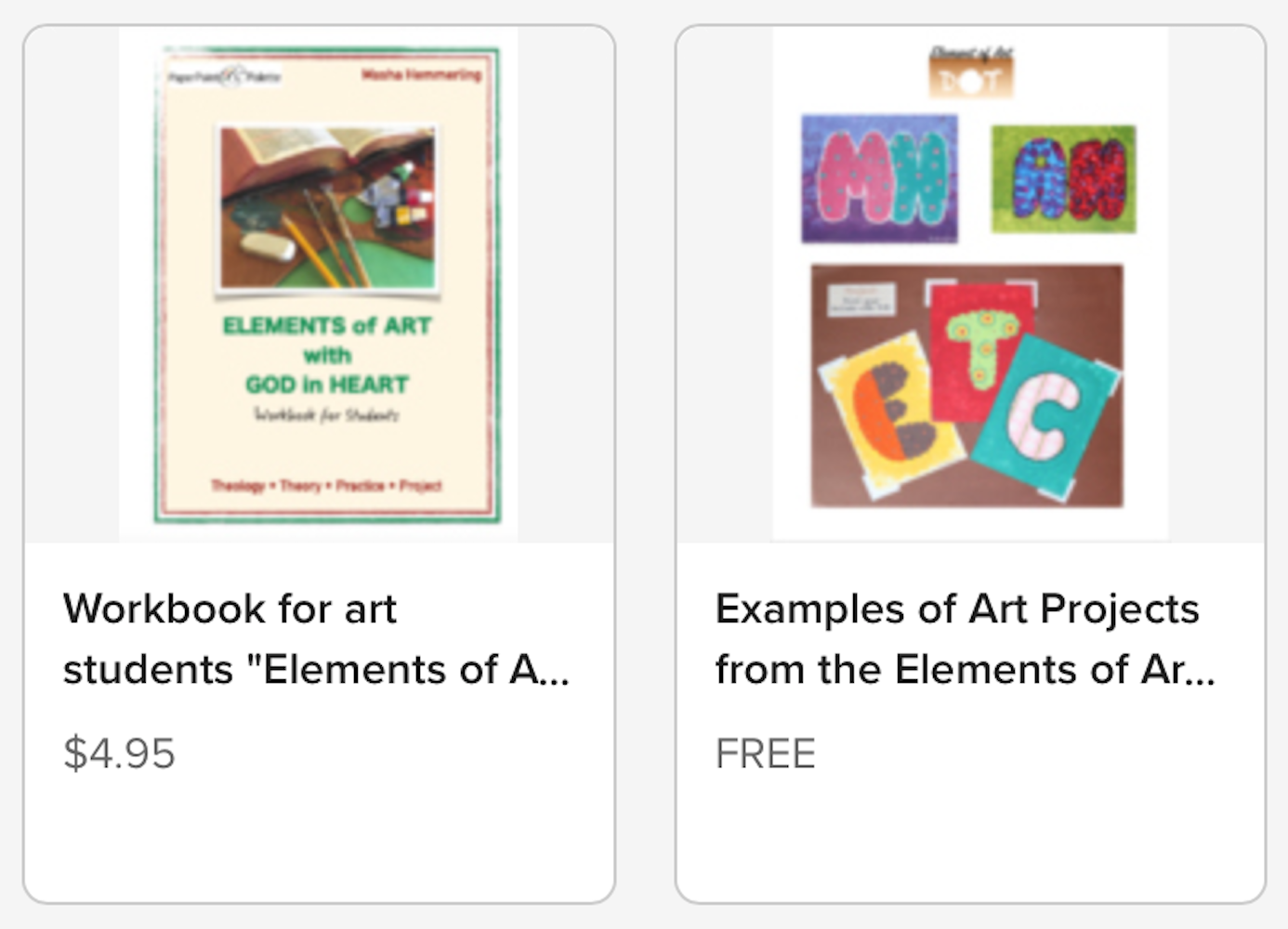 Along with that manual I've created an "Elements of Art with God in Heart" workbook for students that can be on my TeachersPayTeachers store: https://www.teacherspayteachers.com/Product/Workbo...
Inside of that workbook for students you will find:
8 pages to be used for the first lesson of each unit
Each Lesson contains 5 sections: theology, theory, 2 practice parts and a project. I created this workbook so that students with different learning styles will feel comfortable and retain the knowledge.
2 posters: 5 Senses and 8 Elements of Art
Full Color
14 pages

8.5 x 11 inches
Also, you can find a FREE pdf file with bigger size examples of Art Projects from the Elements of Art with God in Heart manual and a workbook: https://www.teacherspayteachers.com/Product/Exampl...
---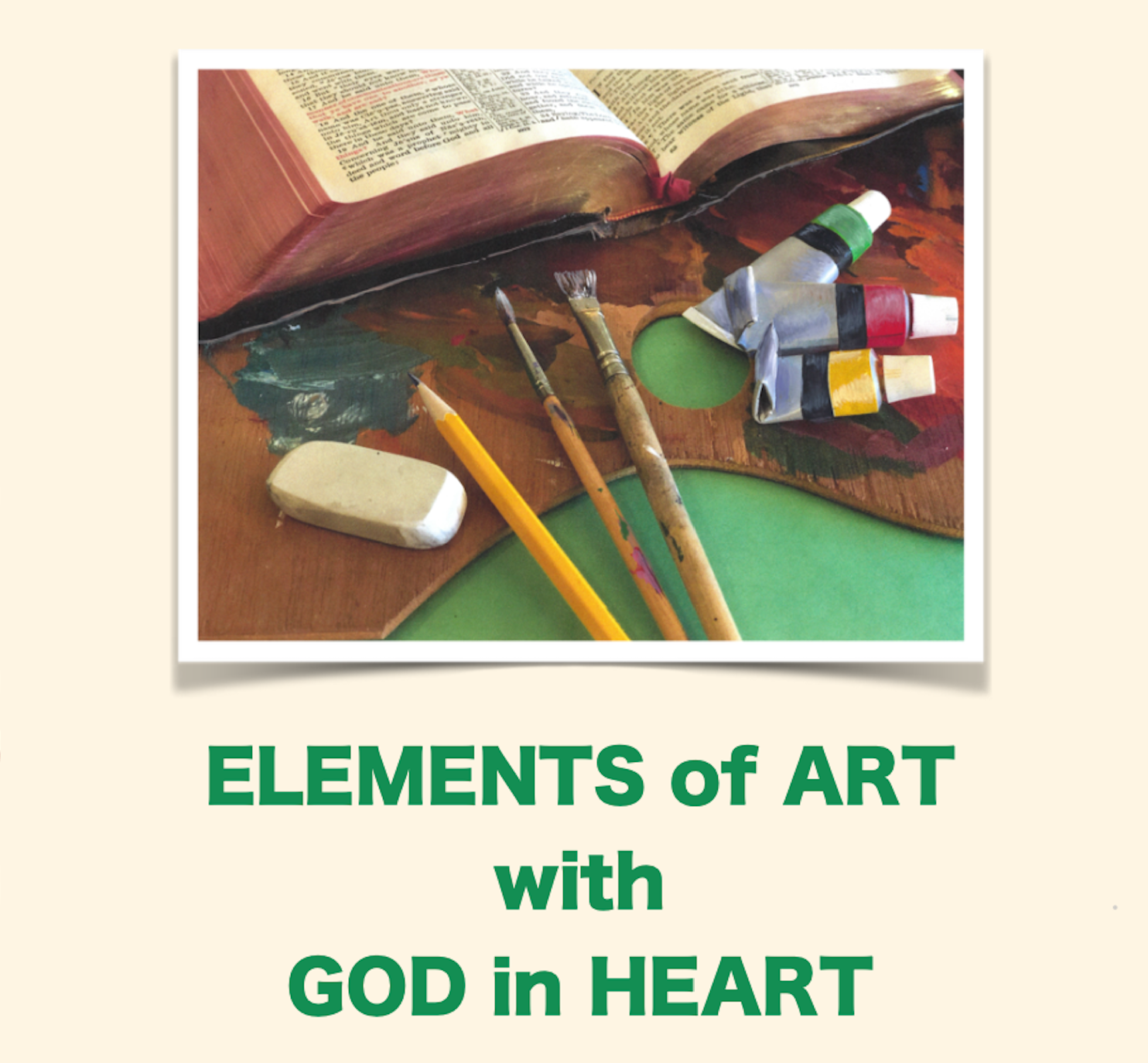 And the last thing that I want to share with you is this... I have a video course that you can use to see how I was teaching this curriculum to my online students. Even though I taught this program as a part of curriculum for one and for two semesters, as an after school program, I was able to film myself only when I was teaching this program online. And now I would like to offer this to you! It will be helpful if you would already purchase the manual and a workbook.
You can find this course in the header of my website homepage:https://www.paperpaintandpalette.com/courses/enrol...
Inside that course you will find:

Small video intro to play for students (cartoon style)

25 video lessons (about 3 for each lesson)

Over 100 documents, images, and other visual support.